Metta Fund's Community Room is located in the heart of San Francisco's Financial District, on the unceded ancestral homeland of the Ramaytush Ohlone peoples, who are the original inhabitants of the San Francisco Peninsula. We gratefully acknowledge the Indigenous people who have stewarded the land for generations past, present, and future.
Free of cost, the Community Room is designed to accommodate meetings by nonprofit organizations, government agencies, and other partner institutions working to advance the health and wellness of older San Franciscans.
Currently, the Metta Fund Community Room can accommodate up to 30 people in classroom-style meeting configuration. We require that room users submit a Room Use Agreement and Certificate of Insurance, valid for the current calendar year, to finalize a reservation. More details will be emailed to you after we receive your reservation request.
For questions, please email us.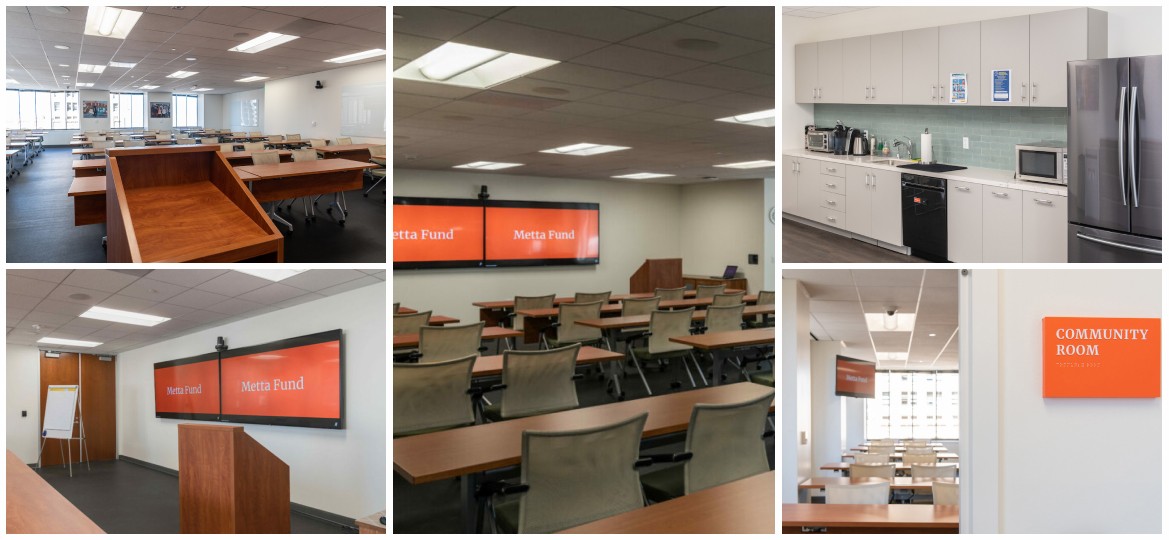 Our Community Room is open! Please review eligibility and room guidelines for complete updates.
Eligibility
The Community Room is available for reservation for grant and community partners.
Nonprofit organizations that are exempt under Section 501(c)(3) of the Internal Revenue Code

Sponsored projects of a nonprofit Section 501(c)(3) organization acting as a fiscal sponsor

Government and public agencies

The Community Room is not available for commercial, political, private, or religious events. Nondenominational faith-based organizations with goals compatible with Metta Fund's are welcome to apply for meeting space.

Please note that all booking requests are subject to review to ensure alignment with the foundation's mission.
Cost
There is no fee for the room and equipment. Please note the room is exclusively for nonprofit organizations and community partners. Metta Fund may request verification of nonprofit status prior to event.
Hours of Operation
Every Tue, Wed, and Thu
9:00am – 4:00pm – including setup and cleanup time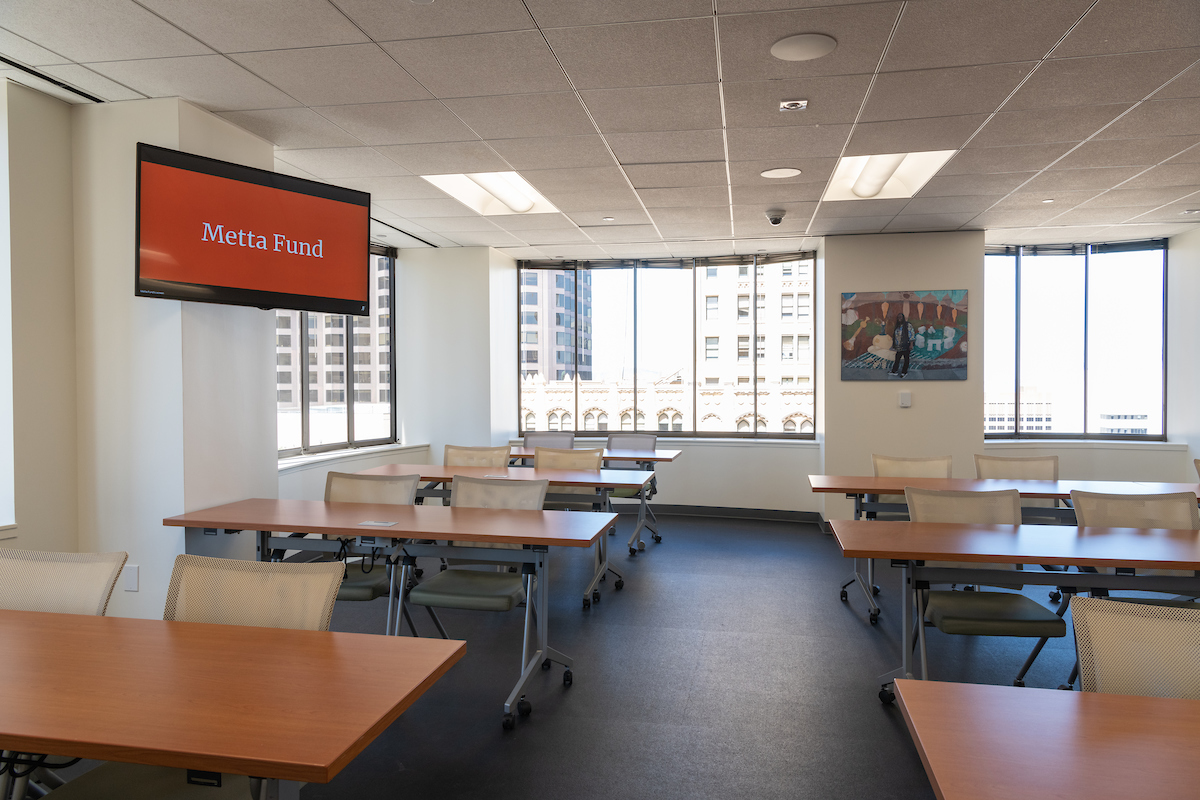 Wi-Fi Access
Screens
Audio and Video conferencing
Podium
Flipchart Paper and Markers
Glass Whiteboard and Markers
Community Room Frequently Asked Questions
How often can my organization use the community room?
Organizations are limited to using the space 12 times per calendar year and can make reservations up to 6 months in advance.
Is the room ADA accessible?
The Community Room and restrooms meet ADA wheelchair accessibility standards.
Is food permitted?
Yes, and we have a list of recommended caterers available. Please note that Metta does not supply plates, cups, or utensils as we aim to be as sustainable as possible. We do have a refrigerator and water pitchers available.
Are weekend or evening meetings permitted?
At this time we cannot accommodate reservation requests that take place on weekends or outside of the hours of 9:00 am-4:00 pm Tuesday through Thursday.
Can I set up the room in different configurations?
In our new Community Room,  classroom style is the only available set-up configuration.