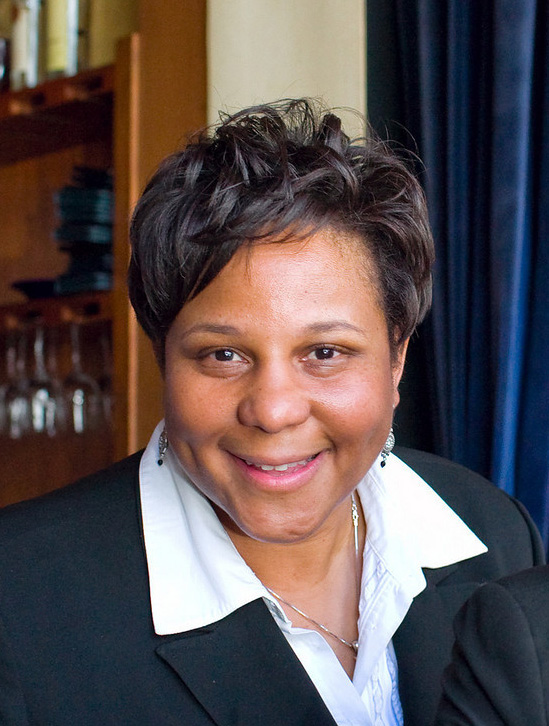 Metta Fund is delighted to announce Janet Y. Spears as our new Executive Director! Janet joins us from the East Bay Community Foundation where she culminated her eight-year tenure as Chief Operating Officer.  She brought her strong strategic management and development skills to the East Bay after an extensive career at AT&T, a Fortune 500 telecommunications company.  She is a seasoned professional promoting positive community and economic growth across the Bay Area.
We sat down with Janet to learn more about her interests and passions and to share her stories with our Metta Fund Community.
Staff: What is your favorite part of working in philanthropy?
Janet Y. Spears (JYS): My background is in science and engineering and wanting to fix big problems.  Philanthropy is very much like science research with the aims of solving intractable social issues – we're figuring out how to take the small dollars of philanthropy and leverage them so that the larger dollars in the public system can do the most good. I think you can only fix big problems through trial and error; we make a hypothesis, test it, and then evaluate how well it worked. Philanthropy provides a wonderful test bed, where we can listen to many voices, try things out on a manageable scale, and expand on successes to have broad and longer-term impacts.
An example of this from my time at East Bay was when we helped launch the African American Male Achievement Program. Things that change in large public systems usually happen through someone taking a risk and stepping outside of the norm. This program was incubated at the East Bay Community Foundation, then moved back into the larger Oakland Unified School District ecosystem. Philanthropy allowed us to do that incubation and testing of innovation; and to me, that's engineering at its finest.
Staff: Why did you switch from the private sector to the nonprofit sector?
JYS: After taking an early retirement from my private sector job at AT&T, I wanted an opportunity where I felt I could have more impact in community. I always thought there might be a place for me in philanthropy, and I also thought I could learn the most at a community foundation because of its deep connection and commitment to a geographically defined area. At the East Bay Community Foundation, I had the opportunity to raise money and grant money out, and understand the larger philanthropic sector from small donor advised funding to large-scale nationally aligned grantmaking.
Staff: What are you most looking forward to in your new role here at Metta Fund?
JYS: I'm most excited about the collaboration Metta Fund can have doing our work with others in this sector to improve issues locally. This would include funding innovative work that can be used as an implementation test bed.  Hopefully, some of these tests will lead to success that will influence the policies and practices of our larger systems to create healthier San Francisco residents.  I'm also excited to be of service to San Francisco, the place where I have lived for many years.
Staff: What is the most exciting thing happening in philanthropy and the social sector right now?
JYS: I think one of the most exciting transformations in the sector is the actual collaborative work happening. One example of this happened with the launch of the Obama's My Brother Keeper Initiative by former President Obama. For several years at the East Bay Community Foundation we had been focused on funding early childhood literacy and job empowerment for those with barriers to employment. However, when the White House Initiative to empower boys and young men of color came along, we organized and participated in several gatherings of organizations and foundations in California and nationally.  Working together allowed us to not only share our best grant making practices, but also, and most importantly, develop and adopt the common language to describe problems and truly communicate with one another in the solutions.  EBCF is continuing to do this work with many partners.
I am also excited about working with leaders in the philanthropic sector whom I have met previous to my new role here at the Metta Fund.  Leaders at the California Endowment, California Wellness Foundation, Sierra Health Foundation and Kaiser Permanente are a few that I will seek guidance from and potential collaborations with as we do our work in community. Finally, opportunities to create successful public and private partnership that can spearhead potential solutions in the community are also of great interest to me.
Staff: What do you love most about living in the Bay Area?
JYS: I'm a Bay Area native, but I've lived in several other places in the country. What I like about the Bay Area is that we have so much variety in our climates and activities. You can do everything right here in the Bay Area. We have ballgames, theater, college events.  Also within a few hours, you can be in the snow, at the beach, on top of the mountains, or hiking in the Redwood forests. I know I'm partial to the Bay Area, because this is where I was raised; but having lived in the Midwest, Southern California, Denver, and New Jersey, I can say with experience that I have tried other places, but the Bay is definitely home.
Staff: Where are you happiest?
JYS: Wherever I am, pretty much. I spent years searching for the perfect thing to do in order to be happy and what I'm learning is wherever I am is where I'm happiest – it must be where I'm meant to be. I really enjoy time with my family—my siblings, and their significant others and their kids. We like to golf together, share meals, barbecues, hang out and talk. We really love sports and sporting events, we're all big baseball fans and that serves as a special link in the family, which always brings us together. During baseball season, we're all about the Giants, but even if our team doesn't make it to the World Series we are nonstop talking about baseball until the end of the last out of the World Series.  I've had season tickets since 1991, and in that time, my favorite player is Barry Bonds. He was an exemplar of his era, given all the things that were happening in baseball. He was a five-tool player, and he is by far the best player that the Giants had during the time that I've followed them.